Review
| 25 Sep 2007 17:32 | By aparnajoshi
Bal Ganesh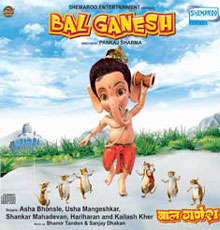 Producer - Shemaroo Entertainment
Director - Pankaj Sharma
Music director - Shamir Tandon, Sanjay Dhakan
Our Rating - 2.5/5
Obviously, the brief given to the music directors for this 3D animation flick that comes close on the heels of a similar film, My Friend Ganesha, was to target the hip, urban young generation.
This Ganesha is for the cool kids in our metros, who prefer their favourite deity packaged as a superhero, deified like a happening Disney icon. Bal Ganesh's music, to a large extent, is set to Western arrangements. The coming together of stalwarts like Asha Bhonsle, Usha Mangeshkar, Shankar Mahadevan, Hariharan and Kailash Kher was touted to be the USP of the album. But Shamir Tandon, who has made his presence felt earlier in flicks like Page 3 and Red Swastika, does not do justice to their presence.
Ganaa Ganaa Di, rendered by Shankar Mahadevan, and aided by Zee's Saregamapa finalists Amaanat, Aneek and Nirupama, is fast paced, peppy and set to Western arrangements rather than go the devotional way.
There are shades of Zara Zara Bach Ke from Chak De India and even Dhadak Dhadak from Bunty Aur Babli when the song moves into fast mode.
Mahadevan does a fair job, as does Asha Bhonsle when she offers her version of the same track, aided this time by Junaid, Mauli and Sumedha from Saregamapa, who pump in as much energy into the song as does the effortless Asha. Despite the upbeat tune, there's nothing innovative in the track and the extensive use of instruments merely serve to drown out the singers' voices.
Zee's Little Champs Sanchita, Sameer and Pavni have also been roped in for Haathi Ka Bal, Akal, Shakal; another track which is passable with its interspersing of English lyrics which do nothing to raise the song beyond the ordinary. If anything, they irritate more than please. Lyricist Vibha Singh could have stuck to Hindi, yet given the song the required modern touch.
In fact, the two tracks that are enjoyable in this album are composed by Sanjay Dhakan, the lesser known of the two music directors. Kailash Kher, fresh from his 'Bam Lahiri' image does a good job of Naache Dhin Dhin Dhintak, providing that right rough edge to Rajendra Mehra's lyrics. The use of the instruments in this song is pleasing to the ears, although the 'western touch' is retained with the beats. The Ganesh Utpati by Hema Desai is soft and soothing and a refreshing change after the earlier peppy songs. It is the final Nanha Munna Bal Ganesh that disappoints, with sisters Usha and Asha infusing none of their famed charm into the track. It isn't their fault probably; as neither the lyrics nor the tune merit much praise.
Radio jockey Lavanya does a commendable job with her short rendition in the Hariharan led Aao Sunaata Hoon Sabko, but the song that starts with much promise, drags towards its end.
One wonders if the makers' premise of infusing Ganesha with a new 'hip' image with such an album would go down well with Gen Next. Not much of a buzz has been heard around the album despite the ongoing Ganesh festival, when it could have cashed in on its topicality and repeated airings of Ganaa Ganaa Di could have pushed the album into reckoning.
All considered, an album your children won't regret having missed out on.